Roger Fenton was a British photographer born in August 1819, noted as one of the first war photographers. He was born in Crimble Hall, Heywood, Lancashire into a wealthy family. He was the fourth of seven children.
Roger Fenton is a towering figure in the history of photography, the most celebrated and influential photographer in England during the medium's "golden age" of the 1850s. Before taking up the camera, he studied law in London and painting in Paris.
In 1840, Fenton graduated with a "first class" Bachelor of Arts degree from the University of London, having read English, mathematics, Greek and Latin. In 1841, he began to read law at University College, London, evidently sporadically as he did not qualify as a solicitor until 1847, partly because he had become interested in learning to be a painter.
In Yorkshire in 1843 Fenton married Grace Elizabeth Maynard, presumably after his first sojourn in Paris where he may briefly have studied painting in the studio of Paul Delaroche. When he registered as a copyist in the Louvre in 1844 he named his teacher as the history and portrait painter Michel Martin Drolling, who taught at the École nationale supérieure des Beaux-Arts, but Fenton's name does not appear in the school records. By 1847 Fenton had returned to London where he continued to study painting under the tutelage of the history painter Charles Lucy, who became his friend and with whom, starting in 1850, he served on the board of the North London School of Drawing and Modelling. In 1849, 1850 and 1851 he exhibited paintings in the annual exhibitions of the Royal Academy.
Fenton visited the Great Exhibition in Hyde Park in London in 1851 and was impressed by the photography on display there. He then revisited Paris to learn the waxed paper calotype process, most likely from Gustave Le Gray who had modified the methods employed by William Henry Fox Talbot, its inventor.
He traveled to Russia in 1852 and photographed the landmarks of Kiev and Moscow; founded the Photographic Society (later designated the Royal Photographic Society) in 1853; was appointed the first official photographer of the British Museum in 1854; achieved widespread recognition for his photographs of the Crimean War in 1855; and excelled throughout the decade as a photographer in all the medium's genres architecture, landscape, portraiture, still life, reportage, and tableau vivant.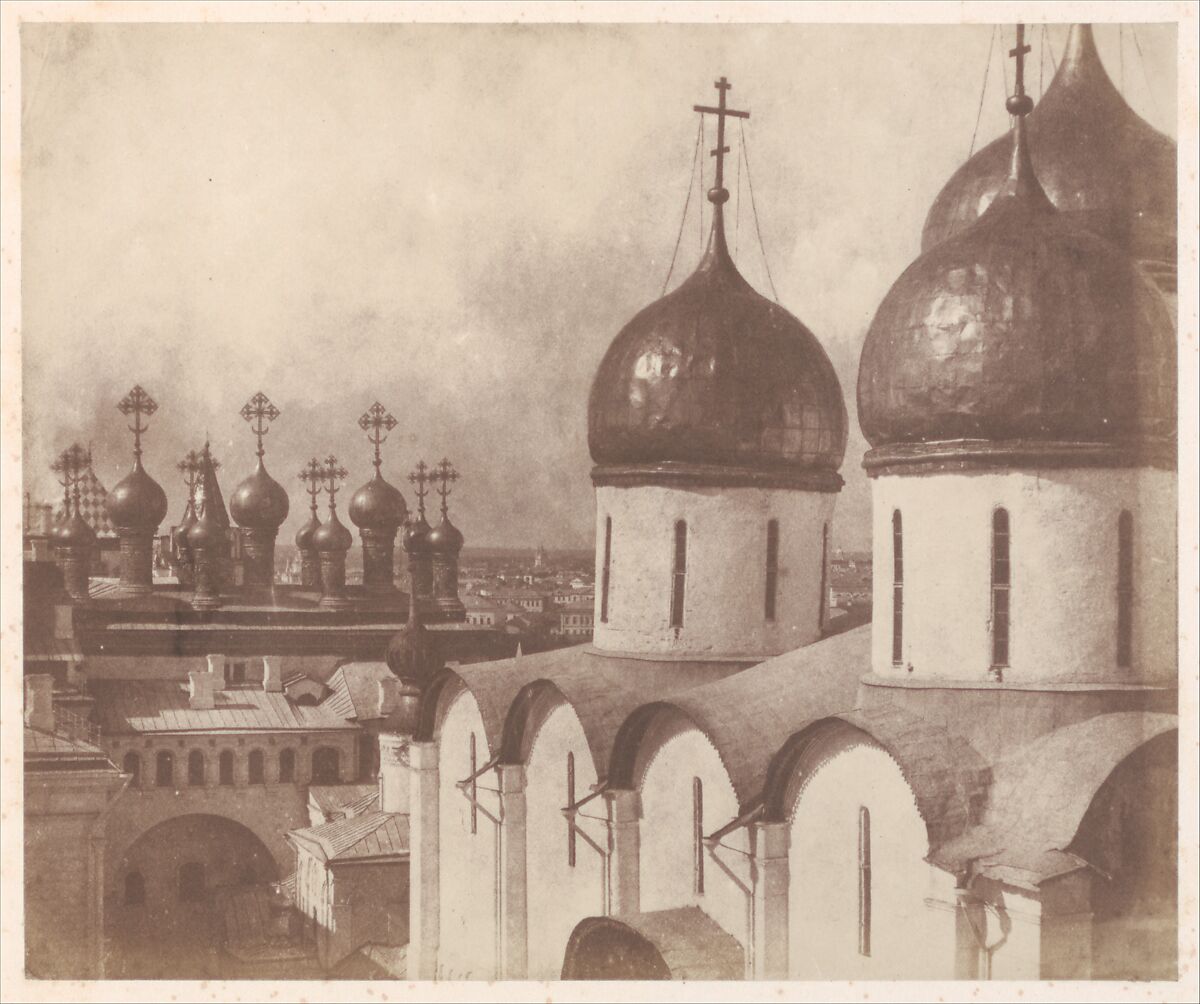 As a photographer of architecture, Fenton was without equal in England. He assigned himself the task of photographing the major churches and abbeys of Great Britain and, working most often in a format as large as 14 x 18 inches, wedded perfect technique with an unerring ability to choose the precise vantage point and lighting conditions that would best render the smallest details of architecture, convey a sense of monumentality, and imbue his pictures with a Romantic spirit.
His subjects included the Gothic cathedrals of Salisbury, Wells, Lincoln, and Lichfield; Westminster Abbey, the Houses of Parliament, and the British Museum; Windsor and Balmoral Castles; and the ruined abbeys of Rievaulx, Fountains, Rosslyn, and Lindisfarne.
In landscape photography, too, Fenton was without parallel among his countrymen. The most compelling of his views of the English, Welsh, and Scottish countryside call to mind the paintings of Constable and Turner as well as Romantic poems by William Wordsworth that celebrate man's ties to nature.
Fenton possessed a particular sensitivity for the play of light and atmosphere in the natural world, a subject he explored throughout the decade of his career with as much determination and success as he did architecture.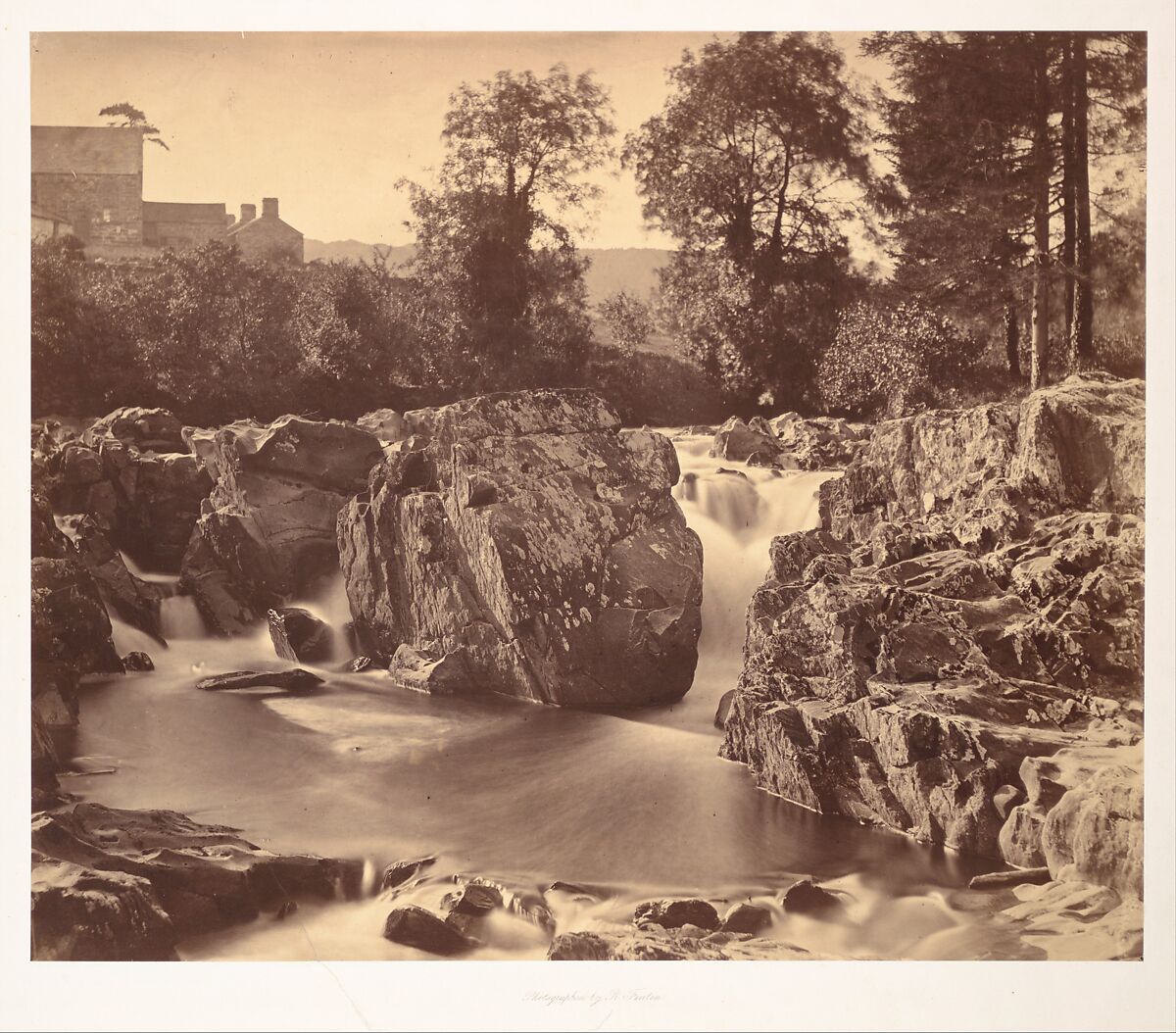 Fenton's most widespread acclaim came in 1855, with photographs of the Crimean War, a conflict in which British, French, Sardinian, and Turkish troops battled Russia's attempt to expand its influence into European territory of the Ottoman empire.
Fenton was commissioned by the Manchester publisher Thomas Agnew & Sons to travel to the Crimea and document the war, and his mission was encouraged by the government, which hoped that his photographs would reassure a worried public.
The resulting photographs may have been intended to offset the general unpopularity of the war among the British people, and to counteract the occasionally critical reporting of correspondent William Howard Russell of The Times; the photographs were to be converted into woodblocks and published in the less critical Illustrated London News. He set off aboard HMS Hecla in February, landed at Balaklava on 8 March and remained there until 22 June. Fenton took Marcus Sparling as his photographic assistant, a servant known as William and a large horse-drawn van of equipment.
Due to the size and cumbersome nature of his photographic equipment, Fenton was limited in his choice of motifs. Because the photographic material of his time needed long exposures, he was only able to produce pictures of stationary objects, mostly posed pictures; he avoided making pictures of dead, injured or mutilated soldiers. But he also photographed the landscape, including an area near to where the Charge of the Light Brigade.
Despite summer high temperatures, breaking several ribs in a fall, suffering from cholera and also becoming depressed at the carnage he witnessed at Sevastopol, in all Fenton managed to make over 350 usable large format negatives. An exhibition of 312 prints was soon on show in London and at various places across the nation in the months that followed. Fenton also showed them to Queen Victoria and Prince Albert and also to Emperor Napoleon III in Paris. Nevertheless, sales were not as good as expected.
Fenton's extensive documentation of the war, the first use of photography in this manor included images of the port of Balaklava, the camps, the terrain of battle, and portraits of officers, soldiers, and support staff of the various allied armies.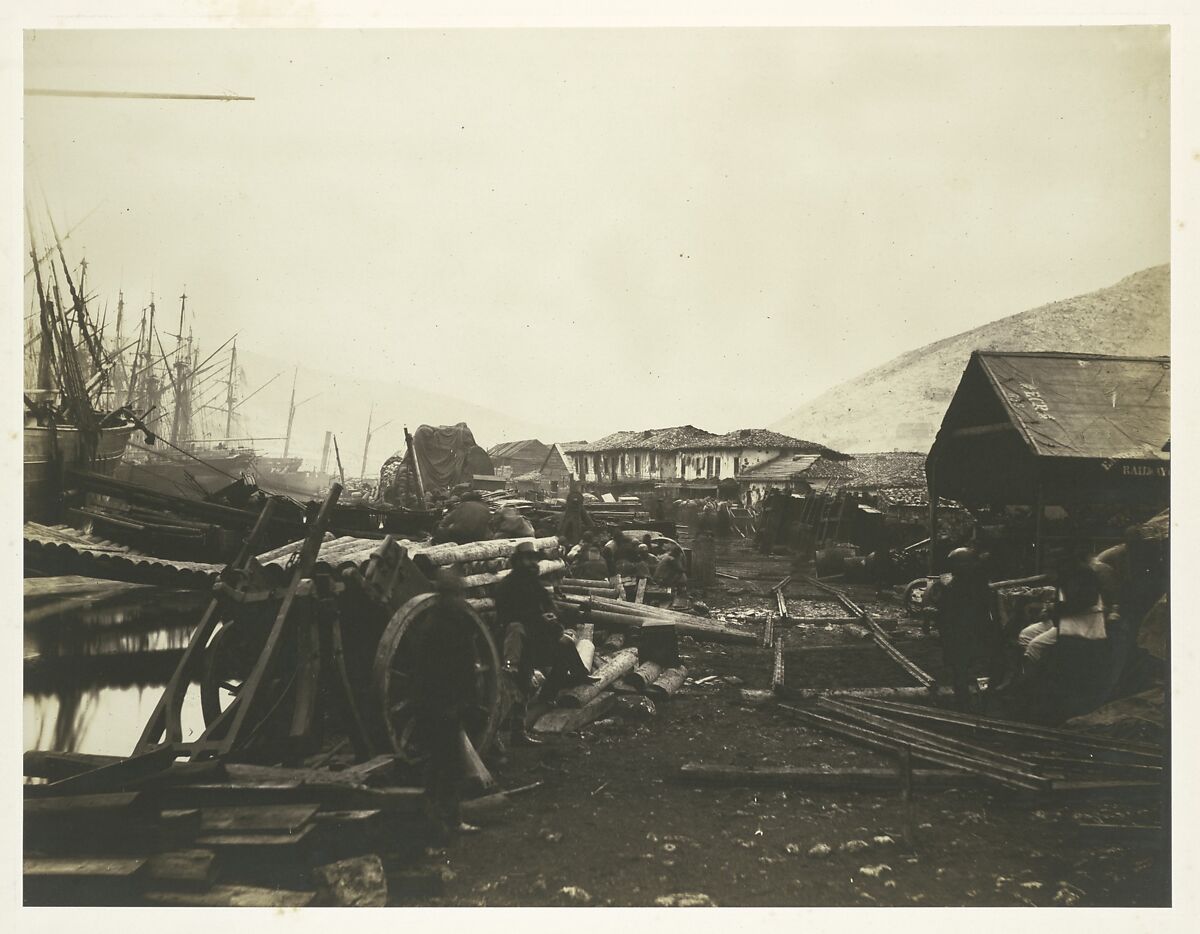 Despite the lack of commercial success for his Crimean photographs, Fenton later travelled widely over Britain to record landscapes and still life images. However, as time moved on, photography became more accessible to the general public. Many people sought to profit from selling quick portraits to common people. It is likely that Fenton, from a wealthy background, disdained 'trade' photographers, but nevertheless still wanted to profit from the art by taking exclusive images and selling them at good prices. He thus fell into conflict with many of his peers who genuinely needed to make money from photography and were willing to 'cheapen their art' (as Fenton saw it), and also with the Photographic Society, who believed that no photographer should soil himself with the 'sin' of exploiting his talent commercially in any manner.
Inspired by the experience of traveling through Constantinople en route to Balaklava, or perhaps simply sharing the mid-nineteenth-century vogue for all things exotic, Fenton produced a theatrical suite of Orientalist compositions during the summer of 1858. Costume pieces that strove for high art rather than documentation and that were, in a sense, an antidote to the harsh realities he had recorded in the Crimea. They owed as much to the paintings of Delacroix and Ingres as to Fenton's own experience in the East.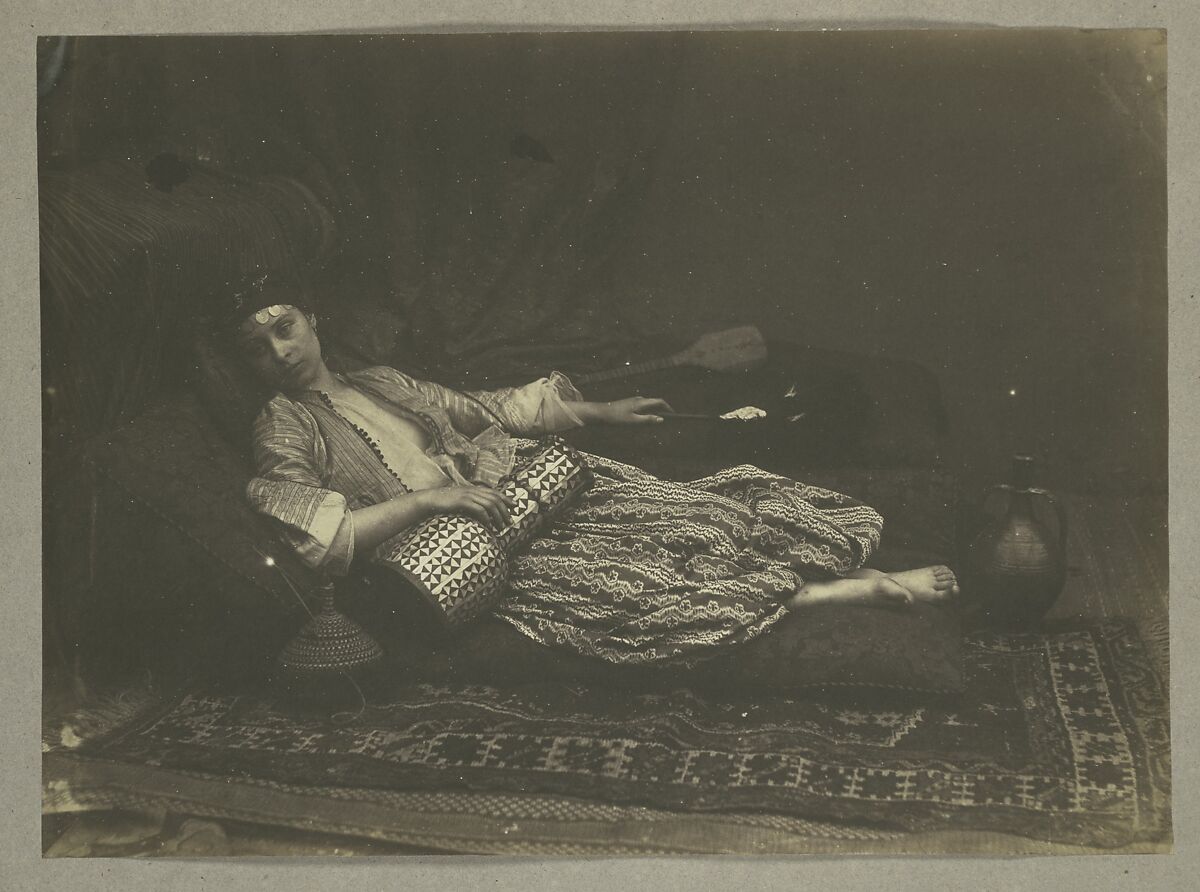 In 1862, after a final series of photographs a remarkable group of amazing still life, Fenton sold his equipment and negatives, resigned from the Royal Photographic Society, and returned to the bar.
In the course of a single decade, Fenton played a pivotal role by advocating in demonstrating that photography could rival drawing and painting not only as a means of conveying information, but also as a medium of visual delight and powerful expression.