"The enemy of photography is the convention, the fixed rules of 'how to do'. The salvation of photography comes from the experiment." – Lászlo Moholy – Nagy
László Moholy-Nagy was a Hungarian painter and photographer born in July 2, 1895. László attended a gymnasium school in the city of Szeged, which was the second-largest city in the country. Initially he wanted to become a writer or poet, and in 1911 some of his poems were published in local daily newspapers. In 1913, he studied law at the University of Budapest.
In 1915 during World War I, he enlisted in the Austro-Hungarian army as an artillery officer. In service, he made crayon sketches, watercolours and writings to document his wartime experiences. He was injured on the Russian Front in 1917, and convalesced in Budapest. While on leave and during convalescence, Moholy-Nagy became involved first with the journal Jelenkor ("The Present Age"), edited by Hevesy, and then with the "Activist" circle around Lajos Kassák's journal Ma ("Today"). After his discharge from the military in October 1918, he abandoned his law studies and attended the private art school of the Hungarian Fauve artist Róbert Berény.
After the defeat of the Communist regime in August, he withdrew to Szeged. An exhibition of his work was held there, before he left for Vienna around November 1919.
In 1920, Moholy-Nagy moved to Berlin where he met photographer and writer Lucia Schulz; they married the following year.
In 1922, at a joint exhibition with fellow Hungarian Peter Laszlo Peri at Der Sturm, he met Walter Gropius. That summer, he vacationed on the Rhone with Lucia, who introduced him to making photograms. He also began sketching ideas for what would become his most well-known sculpture, the Light-Space Modulator.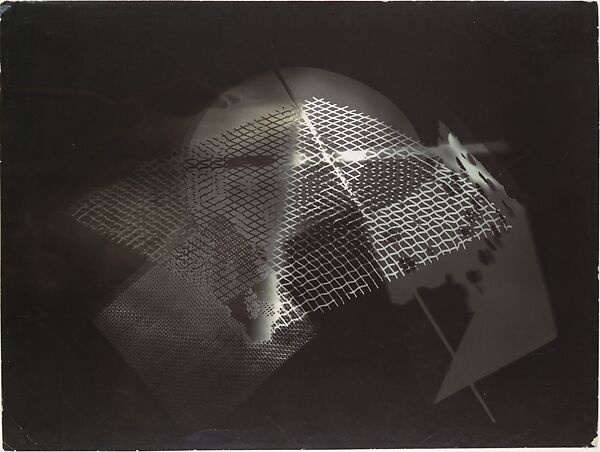 In 1923, Moholy-Nagy replaced Johannes Itten as the instructor of the foundation course at the Bauhaus. This effectively marked the end of the school's expressionistic leanings and moved it closer towards its original aims as a school of design and industrial integration. The Bauhaus became known for the versatility of its artists, and Moholy-Nagy was no exception. Throughout his career, he became proficient and innovative in the fields of photography, typography, sculpture, painting, printmaking, and industrial design. One of his main focuses was photography.
He coined the term "the New Vision" for his belief that photography could create a whole new way of seeing the outside world that the human eye could not. His theory of art and teaching is summed up in the book The New Vision, from Material to Architecture. He experimented with the photographic process of exposing light sensitive paper with objects overlain on top of it, called photogram. While studying at the Bauhaus, Moholy's teaching in diverse media including painting, sculpture, photography, photomontage and metal. He had a profound influence on a number of his students, including Marianne Brandt.
Perhaps his most enduring achievement is the construction of the "Lichtrequisit einer elektrischen Buehne" [Light Prop for an Electric Stage] (completed 1930), a device with moving parts meant to have light projected through it in order to create mobile light reflections and shadows on nearby surfaces. Made with the help of the Hungarian architect Istvan Seboek for the German Werkbund exhibition held in Paris during the summer of 1930, it is often interpreted as a kinetic sculpture. After his death, it was dubbed the "Light-Space Modulator" and was seen as a pioneer achievement of kinetic sculpture. It might more accurately be seen as one of the earliest examples of Light Art.
Moholy-Nagy was photography editor of the Dutch avant-garde magazine International Revue i 10 from 1927 to 1929. He resigned from the Bauhaus early in 1928 and worked freelance as a highly sought-after designer in Berlin. He designed stage sets for successful and controversial operatic and theatrical productions, designed exhibitions and books, created ad campaigns, wrote articles and made films. His studio employed artists and designers such as Istvan Seboek, Gyorgy Kepes and Andor Weininger.
After the Nazis came to power in Germany in 1933, and, as a foreign citizen, he was no longer allowed to work, he operated for a time in Holland doing mostly commercial work before moving to London in 1935.
In England, Moholy-Nagy formed part of the circle of émigré artists and intellectuals who based themselves in Hampstead. Moholy-Nagy lived for a time in the Isokon building with Walter Gropius for eight months and then settled in Golders Green. Gropius and Moholy-Nagy planned to establish an English version of the Bauhaus but could not secure backing, and then Moholy-Nagy was turned down for a teaching job at the Royal College of Art.
Moholy-Nagy made his way in London by taking on various design jobs including Imperial Airways and a shop display for men's underwear. He photographed contemporary architecture for the Architectural Review where the assistant editor was John Betjeman who commissioned Moholy-Nagy to make documentary photographs to illustrate his book An Oxford University Chest.
In 1936, he was commissioned by fellow Hungarian film producer Alexander Korda to design special effects for Things to Come. Working at Denham Studios, Moholy-Nagy created kinetic sculptures and abstract light effects, but they were rejected by the film's director. At the invitation of Leslie Martin, he gave a lecture to the architecture school of Hull University.
In 1937, at the invitation of Walter Paepcke, the Chairman of the Container Corporation of America, Moholy-Nagy moved to Chicago to become the director of the New Bauhaus. The philosophy of the school was basically unchanged from that of the original, and its headquarters was the Prairie Avenue mansion that architect Richard Morris Hunt designed for department store magnate Marshall Field.
Unfortunately, the school lost the financial backing of its supporters after only a single academic year, and it closed in 1938. Moholy-Nagy was also the Art Advisor for the mail-order house of Spiegel in Chicago. Paepcke, however, continued his own support, and in 1939, Moholy-Nagy opened the School of Design. In 1944, this became the Institute of Design.
In 1949 the Institute of Design became a part of Illinois Institute of Technology and became the first institution in the United States to offer a PhD in design. Moholy-Nagy authored an account of his efforts to develop the curriculum of the School of Design in his book Vision in Motion.
Moholy-Nagy died of leukemia in Chicago in 1946. Moholy-Nagy University of Art and Design in Budapest is named in his honour. Works by him are currently on display at the National Gallery of Art in Washington, DC. The software company Laszlo Systems developers of the open source programming language OpenLaszlo was named in part in honour of Moholy-Nagy. In 1998, he received a Tribute Marker from the City of Chicago.
In the autumn of 2003, the Moholy-Nagy Foundation, Inc. was established as a source of information about Moholy-Nagy's life and works.